Next Regular Meeting April 17, 2014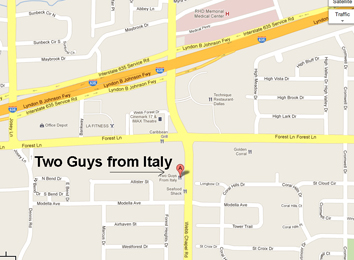 Don't miss our next regular monthly meeting on Thursday, April 17, 2014 at 7 p.m. at Two Guys from Italy at 11637 Webb Chapel Road, just south of Forest Road. WBA Treasurer and benefactor John Parish will be giving away one of his many boating and woodworking related books as a door prize.
As always, we have an interesting program planned, as well as generous helpings of fellowship and Italian food. The meeting will be better if you are there, of course.
Join us for a light meal and moderate libation at 5:30 p.m. at Two Guys from Italy prior to the meeting. We encourage you to join us for dinner, so we'll always have the required minimum number of diners to avoid a room charge.
Shop Talk and Musings
During and following our March meeting, we were overwhelmed by the generosity of WBA members who stepped up to support the club. Gregg DeVore has donated a rare sliding top for a Century Resorter. Jim Donovan has pledged any amount over his reserve for his 1953 Dodge M37 military pickup to the Club. And even before that, as you are aware, Pic Cyr donated his '51 Yellow Jacket and Dave Parker donated his 2000 Chesapeake Light Craft canoe to the Club. Mike Gomes has helped bring banquet speakers to town and has supplied generous donations of tools and boat proceeds in years past. What wonderful support we enjoy!
We're a strong organization for several key reasons. 1. We are active with activities and projects. 2. We get together with frequency and build bonds of loyalty, friendship and mutual support. 3. Many of our members go above and beyond the baseline investment of dues to support our club's activities. Long live the WBA!
And, finally: Please take a look in the shed or garage for the leftover parts or other salable items you can donate to the club. Bring them to any WBA meeting, or contact David Kanally at david@historywithheart.com for pickup.