Next Meeting April 18th. Don't miss it!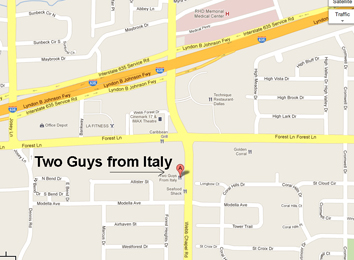 Join us on Thursday, April 18th at 7 p.m. at Two Guys from Italy at 11637 Webb Chapel Road, just south of Forest Road. WBA Treasurer and benefactor John Parish will be giving away one of his many boating and woodworking related books as a door prize. At this month's meeting, the winner will be able to choose a book from a selection of woodworking and boat-related volumes. Robin McGeorge will be on deck with a hands-on repair presentation that will add to your vintage boating knowledge!
Join us for a light meal and moderate libation at 5:30 p.m. at Two Guys from Italy prior to the meeting. We encourage you to join us for dinner, so we'll always have the required minimum number of diners to avoid a room charge.
Shop Talk and Musings: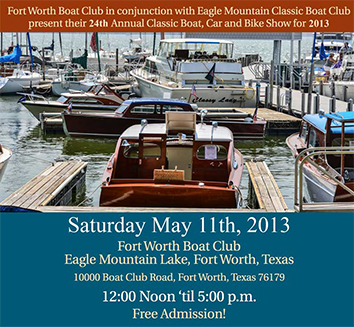 Our friends over at Eagle Mountain Lake have set the date for this year's Wood, Waves & Wheels show...Saturday May 11. That's a full week after Keels & Wheels and will give all of us a chance to display boats once again, this time in a venue in the DFW Metroplex. We've always had a pretty good showing at this show, so let's keep the momentum going and support our fellow skippers in Fort Worth! Entry forms have already been sent to you via email, but if you need another one, just let me know. On another note, many thanks to all who were involved in the Yellow Jacket Bench project. The folks in Denison are over the moon with the outcome...not only the benches, but also the energy the project created for the entire fundraising effort for the renovation of Munson Stadium, home of the Fighting Yellow Jackets. Also, we'd like everyone to know that the Chris-Craft planks donation story has been included in the winter edition of The Brass Bell, official magazine of the Chris-Craft Antique Boat Club. If you become a member, you can read this and many other wonderful classic boating stories on line!
And, finally:
Please take a look in the shed or garage for the leftover parts or other saleable items you can donate to the club. Bring them to any WBA meeting, or contact David Kanally at david@historywithheart.com for pickup.