Next Monthly Meeting April 19, 2012. Don't miss it!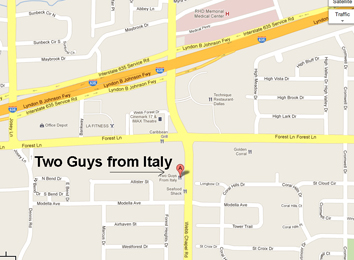 Join us on April 19th at our new meeting location, Two Guys from Italy at 11637 Webb Chapel Road, just south of Forest Road. Our program will be on the topic of exotic hardwoods, including those used in boatbuilding. Our presenter, Owen Morris, is an expert in these specialty woods, and will bring a new level of understanding to all members in attendance.
Join us for a light meal and moderate libation at 5:30 p.m. at Two Guys from Italy prior to the meeting.
Shop Talk and Musings:
Get out your calendars! We have confirmation on two events: First, we have been invited to display at the White Rock Boat Club on September 8. Next, our Ride 'n Show will be at Bella Harbor on Lake Ray Hubbard in Rockwall on October 12 and 13. These are events that are unique to our club and deserve a high level of participation. Get your boats ready!
Thanks to all who participated in the tool auction at the shop on Saturday, March 31. It is true that the folks who came got some very sweet deals. And the Club made out well, too, to the tune of 500 bucks or so. It was all possible because of the generosity of Mike Gomes, who donated the tools. Do you have items you'd like to donate to the WBA? Let me know! 940-395-2742. Now that Marc Hill's boat is right side up, he's kicked himself into another gear, and the top side planks and deck are being cut, shaped, steamed, and fitted as needed to bring the '68 Grand Prix to completion. It seems that right after the flippin' party last week, several of the guys got their screwdrivers fired up and removed the old deck planks in no time flat. That's WBA teamwork! One final reminder about Keels & Wheels. Let's get those reservations confirmed!!
And, finally:
Please take a look in the shed or garage for the leftover parts or other saleable items you can donate to the club. Bring them to any WBA meeting, or contact David Kanally at david@historywithheart.com for pickup.