Project Updates from the Lucas Shop!
(Above) Carl Lapiska has created a test board for various combinations of stain, sealer and varnish in order to choose the best finish for his Chris-Craft Super Sport. His choice is the Interlux mahogany stain on the left.

(Above) Seb Borrello tips the first coat of Interlux Brightside Polyurethane on the bottom. The bright red color needed to be toned down with a bit more black paint in the mix for the second coat.

(Above) With the second coat drying, the group was able to head out for an early lunch on Saturday. If the coat dries as nicely as they think it will, they'll pull off the masking and begin fine sanding work on the hull before the boat is re-righted for deck work, stain and varnishing.

(Above) Since the last issue of Bilge Pump, the shop crew has made great progress on the bottom of the Hallams' Trigger. Here the group is seen outside in the warm sun, having just finished a couple coats of primer.

(Above) Robin McGeorge, John Hallam and David Kanally apply the second coat of muted red paint to the Trigger. Rolling and tipping works very well with this paint. After this coat dries, a third coat may not be needed.

(Above) Meanwhile, Robin McGeorge has already repaired, and stained these seat back compartments for the Trigger. To keep them clean, he's storing them at home for the next couple weeks. Everything at the shop gets dusty, including the fearless crew.
Next WBA Monthly Meeting March 17 at Two Guys!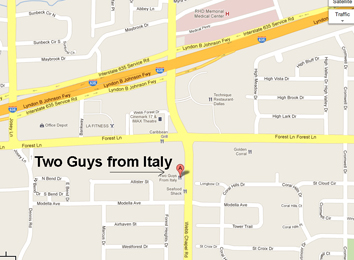 Our next meeting will be Thursday, March 17th, 2022, at 7 p.m. We're very happy to resume in-person meetings, as guidelines for gathering have eased in recent days. You'll receive an email reminder for the meeting a few days prior. We are taking additional steps now to arrange for a much better Zoom experience for those who cannot join in person. We'll be continuing our door prize tradition, giving out an e-book of the lucky winner's choice, or a complimentary design of a boat show placard.
If you can't join in person, you'll be using the Zoom application for your cell phone or your home computer. To make things easier at meeting time, it would be a good idea for you to go to your normal smart phone app store to download Zoom Cloud Meetings, or go to Zoom.us on your home computer and sign up. Prior to the meeting, you will be sent an email with a link to join the meeting, and further instructions. Those who wait to download Zoom will also receive a link to do that just before the meeting starts. If you are among those who need a few attempts to be successful with technology, you may want to get the downloading taken care of ahead of time.
Our meetings are a great opportunity to socialize with fellow WBA members and to talk shop on questions on everything from paint and varnish to carburetor kits. Please join us on Zoom to be a part of our monthly fellowship!
Shop Talk and Musings: Robin McGeorge Promoted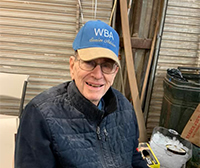 We are pleased to announce the promotion of Robin McGeorge to WBA Senior Advisor on the occasion of his 92nd birthday. Robin has received a nice bump in salary (as R&B star Billy Preston sang in 1974, "Nothing from Nothing Leaves Nothing.") and has received a cap with his new title embroidered on it. Of course, Robin has served in his player/coach position for nearly 30 years now, helping countless WBA members with their boat projects. His methods for bottom refurbishment, seam repair, sanding, staining, varnishing and even engine repair have become standard operating procedures at the shop.
Robin's tireless work ethic and dedication to the success of others' projects have made him a mainstay at the shop. He is beloved and appreciated by all who have had the pleasure of knowing and working with him. Thanks, Robin, for all you do with us and for us!
And finally, please take a look in the shed or garage for leftover parts or other salable items you would like to donate to the Club. Contact David Kanally at david@historywithheart.com for more info.