Yellow Jacket Gets Flipped, Ables' Bottom Finished!
(Above) Ray Widmer brought along his son and grandson on Saturday, February 22, to help John Ables, Jim Donovan and Robin McGeorge flip John's Chris Craft and the Yellow Jacket project. Thanks to Ray and the other two generations of Widmers who so willingly helped!

(Below) The Widmers and John Ables and Jim Donovan use the shop's gantries to flip John's Chris Craft to the upright position, then put it back on its trailer so John could take it home for topside work.

(Above) Once the Yellow Jacket was flipped, Robin and David found a lip of the already-fiberglassed bottom that had become unglued over the years, so they used about every clamp in the shop to glue it back together. Soon the bottom will be painted its original red color.

(Below) Once John's Chris Craft was upright, the boys use the chain hoists on the gantries to raise it a bit so the trailer can be rolled underneath it. The more hands the better on this kind of job!
Next WBA Monthly Meeting March 19, 2020. Don't Miss It!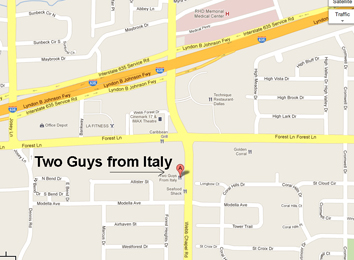 Our next meeting will be Thursday, March 19 at 7 p.m. at Two Guys from Italy at 11637 Webb Chapel Road, just south of Forest Lane. We'll be continuing our door prize tradition, giving out a classic boating book from collections donated by Pat Baldwin and Lou Zettler to a lucky winner.
Our meetings are a great opportunity to socialize with fellow WBA members and to talk shop on questions on everything from paint and varnish to carburetor kits. We'll be swapping stories of our various boating and project adventures. Plus, we'll have a presentation of general interest to the classic boating community. And, of course, we'll have generous helpings of fellowship and Italian food.
Join us for a light meal and moderate libation at 5:30 p.m. at Two Guys from Italy prior to the meeting. We encourage you to join us for dinner, so we'll always have the required minimum number of diners to avoid a room charge.
Shop Talk and Musings:
During the February 22 meeting of the Southwest Chapter of ACBS, which I attend as a SWACBS board member, two bright lights shone on the issue of getting younger people involved in our hobby. First, the Robinson family has been involved in antique and classic boating for years, and you can usually find their children also helping out. Lisa is a Sea Scout leader and national ACBS committee member, and Lindy is the VP of the SW Chapter. The Sea Scouts in the Seabrook/Kema area participate in Keels & Wheels as volunteers to support the adults in everything from crowd control to trash collection. They also display their own Sea Scout ship, a great source of pride for their unit, and a good source of publicity for Keels & Wheels. Second, there's a "Build a Boat" tent, where SWACBS member John Platou and his group of volunteers help kids of all ages assemble the components of a plywood dinghy. They also help kids take apart a small outboard motor and put it back together. For the little ones, a "Paint a Boat" activity is available. One of the adult volunteers draws shapes on a completed plywood dinghy, and the kids paint the shapes as if they're coloring in a coloring book. I'm not saying that every kid who participates in these activities will become a classic boat hobbyist, but I am saying that these kind of activities give young people exposure to our hobby at its finest. Food for thought.
And finally, please take a look in the shed or garage for leftover parts or other salable items you can donate to the Club. Bring them to any WBA meeting, or contact David Kanally at david@historywithheart.com for pickup.