February Meeting Lays out 2018 Events Plans!
Our February WBA meeting produced a busy calendar of events, including our own and those of sister clubs in the area.

You can check the WBA web site any time for dates and details on the events. The Calendar of Events is updated regularly, so check back often for any changes or updates.

Trey Bull was at the meeting to encourage participation in Wood, Waves & Wheels on May 12. In addition, Jeff Currie and others from the Boy Scout Viking Camp on Lake Bridgeport were there to build support for a restoration project on their 35' Viking Canoe! Stay tuned for updates on this unique and worthwhile project!
Project Update from Lucas!
(Above) Robin McGeorge and Seb Borrello worked hard to replace the shaft seal at the back of the transmission of Belinda Patterson's boat. The old seal was producing a previously undetected oil leak. Of course, these things always happen after you install the engine in the boat!

(Below) This may not look like much to you, but to those who were familiar with the old pile of extra manifolds, engine mounts and countless other spares in the corner of the Lucas Shop, this looks like organized bliss! Thanks to Seb Borrello and helpers for getting this stuff up off the floor and on to shelves where it can be easily seen and accessed.

(Above) Robin McGeorge is fitting Belinda's boat with a period steering wheel and throttle mechanism to replace the hot-rod wheel that was there when the boat came to the shop. Looking pretty sharp there, Robin! Do you think we can get the horn to beep?

(Below) Seb's cleaning and organizing continues with another set of shelves, these being donated by Phil Wolff. These shelves are where the paint cabinet used to be in big stall #2. They'll contain a wide variety of fasteners and other goodies that have been frustratingly hidden in various nooks, crannies and drawers of the shop.
Next WBA Monthly Meeting March 15th, 2018. Don't Miss It!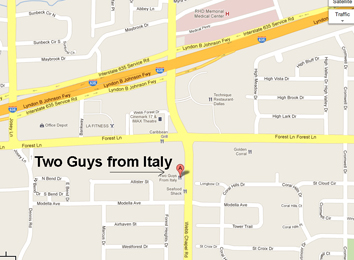 Our next meeting will be Thursday, March 15th, 2018 at 7 p.m. at Two Guys from Italy at 11637 Webb Chapel Road, just south of Forest Lane. We'll be continuing our door prize tradition, giving out a classic boating book from collections donated by Pat Baldwin and Troy Marshall to a lucky winner.
Our meetings are a great opportunity to socialize with fellow WBA members and to talk shop on questions on everything from paint and varnish to carburetor kits. This month, our program will be provided by Ray Carlton of the Coast Guard Auxiliary Division 5 Boat Show and National Safe Boating Week Coordinator. As always, we'll have generous helpings of fellowship and Italian food.
Join us for a light meal and moderate libation at 5:30 p.m. at Two Guys from Italy prior to the meeting. We encourage you to join us for dinner, so we'll always have the required minimum number of diners to avoid a room charge.
Shop Talk and Musings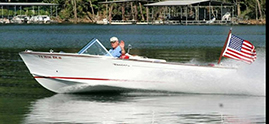 We mourn the passing of one of our most colorful and outspoken members, Guy McColllum, who died unexpectedly on Monday, February 12. A Century man, Guy was well known for his participation in shows around the country, and for his efforts to promote the Century marque. Guy attended WBA shows and events whenever he could. He even played Santa Claus at our last Christmas Party! We extend our sympathies to Guy's wife Jacque, his son Jackson, and to all the members of the McCollum family. Fair winds and following seas, Guy McCollum. (Craig Stanfield photo)
And finally, please take a look in the shed or garage for leftover parts or other salable items you can donate to the Club. Bring them to any WBA meeting, or contact David Kanally at david@historywithheart.com for pickup.