Next Regular Meeting March 20, 2014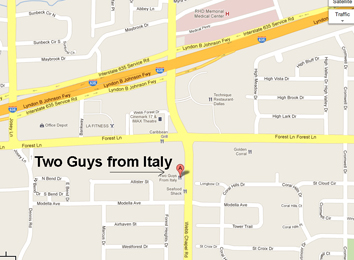 Don't miss our next regular monthly meeting on Thursday, Mar. 20, 2014 at 7 p.m. at Two Guys from Italy at 11637 Webb Chapel Road, just south of Forest Road. WBA Treasurer and benefactor John Parish will be giving away one of his many boating and woodworking related books as a door prize.
Steve Griffitts will present a program entitled, "Restoration Techniques". Plus we'll have plenty of fellowship as always. Come find out what all the buzz is about!
Join us for a light meal and moderate libation at 5:30 p.m. at Two Guys from Italy prior to the meeting. We encourage you to join us for dinner, so we'll always have the required minimum number of diners to avoid a room charge.
Shop Talk and Musings
We're off to another great start to a promising year here at the WBA! Looks like the regular annual events we attend are back, as well as some new ones. Plus, we've just received a generous donation of a wooden canoe! In addition, we're nearing completion of the Yellow Jacket project, which will be ready in time for Keels & Wheels in early May. We have several opportunities for you to participate in Keels & Wheels this year.

1. Launch Crew: Join fellow WBA members to help K&W participants launch their boats at the Lakewood Yacht Club in Seabrook. Requires arrival late Thursday, May 1. The WBA's support of this event results in a nice donation from the SW chapter of the ACBS, so this effort is not only fun and useful, it's an important part of our financial success.
2. Transporting boats: We have at least three boats that need a tow to Keels & Wheels. Registration costs will be taken care of...all you need to do is pick up the boats and tow them to the show, then bring them back. Contact David Kanally at 940-395-2742 for details.
3. Showing your boat. If you have a boat project nearing completion, or if you've always wanted to show your boat at Keels & Wheels, now's the time. Entry forms are available on the K&W web site at http://keels-wheels.com . Mid-March is the no-foolin' deadline to get your boat's photo in the program!
And, finally: Please take a look in the shed or garage for the leftover parts or other salable items you can donate to the club. Bring them to any WBA meeting, or contact David Kanally at david@historywithheart.com for pickup.