Next Meeting March 21st. Don't miss it!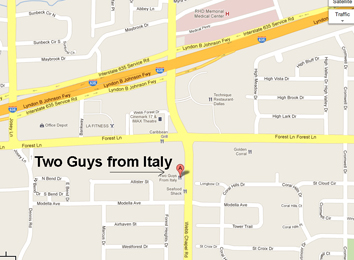 Join us on Thursday, March 21st at 7 p.m. at Two Guys from Italy at 11637 Webb Chapel Road, just south of Forest Road. WBA Treasurer and benefactor John Parish will be giving away one of his many boating and woodworking related books as a door prize. At this month's meeting, the winner will be able to choose a book from a selection of woodworking and boat-related volumes. Our program will be offered by the globe-trotting Billy Hibbs...you'll want to be there to here his latest adventure!
Join us for a light meal and moderate libation at 5:30 p.m. at Two Guys from Italy prior to the meeting. We encourage you to join us for dinner, so we'll always have the required minimum number of diners to avoid a room charge.
Shop Talk and Musings:
Keels & Wheels is just around the corner. A number of people have volunteered for ramp duty at the February meeting, but we could use a few more folks. Please let Robin McGeorge know if you can help out with this important work. As you know, we receive a contribution from the SW ACBS chapter in recognition of our work at Keels & Wheels. This contribution is an important part of our treasury, and directly funds social activities at the Ride 'n Show. So show your support and sign up for launch ramp duty.
On another note, special thanks to everyone who has helped in the building of the Yellow Jacket Benches for the Denison community. We're very proud of these beautiful benches, and will soon be turning them over to their respective donors in Denison. It's been a fun and rewarding project!
Ray and Carol Harvey are again offering their beautiful grounds as the site of a season kick-off party in late May/early June. Final date and time will be communicated to you in the form of an invitation. Tickets for the event will be just $20 per person, probably the best food/entertainment value you'll get this year!
And, finally:
Please take a look in the shed or garage for the leftover parts or other saleable items you can donate to the club. Bring them to any WBA meeting, or contact David Kanally at david@historywithheart.com for pickup.