Next Meeting March 18th--Don't Miss It!
Join us at the Midway Point on Thursday, March 18 for the next monthly meeting of the WBA. WBA VP David Kanally will be presenting Dallas' own Willis Boat Works, makers of racing outboards and family runabouts from the 1930s to the 1950s. Come out and see some people who look surprisingly good for their ages. We've been seeing some faces from the past as well as new members! The meeting will begin at 7 p.m. on Thursday, March 18th at the Midway Point at LBJ and Midway Road.
Join us for a light meal and moderate libation at 5:30 p.m. at the Midway Point prior to the meeting.
Shop Talk and Musings:
Thanks to everybody who came out for the February WBA meeting to help us get our 2010 Calendar of Events put together. Looks like it'll be a great year. We have been able to confirm September 11, 2010 as the date for the White Rock Lake event, to be hosted again this year by the Corinthian Sailing Club. Should be a hoot. They're going to run their annual Laser sailing regatta on the same day, so we'll be sure and have a great crowd. We saw a bunch of guys out at the shop on Saturday. Given Mark Wilson's new project and Troy and Robin's Gar Wood restoration, there'll be plenty of sawdust for you to snort on any given weekend. Come on out sometime and learn how we get our "hands-on" nickname. Our thoughts go out to Guy McCollum this week as he and his family grieve the loss of his dad. We are a caring club, and want Guy to know we're here for him. If you know of anyone who is going through a rough time for health or other reasons, let Signalperson Lisa Daniels know so she can extend sympathies on behalf of the club. Just before press time, the Bilge Pump editorial staff received pictures from Phil Wolff (below left) and Jim Wolfe (below right) showing the framing progress on their Centurys. It seems that Phil is going to school on Jim's restoration, applying lessons learned and doing it right. Both these Century jobs are happening in the owners' garages, so the only way to keep current is to read your Bilge Pump.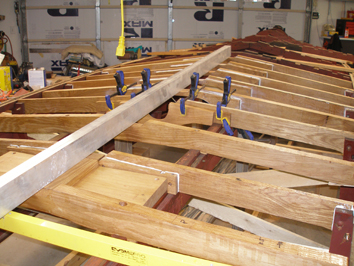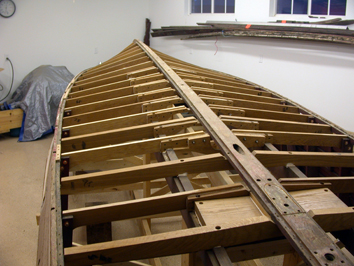 Please take a look in the shed or garage for the leftover parts or other saleable items you can donate to the club. Bring them to any WBA meeting, or contact David Kanally at david@historywithheart.com for pickup.