Project Updates from the Lucas Shop and Beyond!
(Above) There was a big turnout for the flipping party of the Hallams' '58 Yellow Jacket Catalina on Saturday, January 18. The group also sanded and painted the trailer.

(Above) Phil Wolff used the club's steam generator and box to help him bend a 1-1/2" thick length of white oak for a replacement frame at the bottom of the transom of his Coronado.

(Above) Ted Dysart uses an oscillating saw to remove some troublesome plank sections from the bottom of his Century Sabre. It's a dusty job, but Ted is up to the task. Plank replacement is next.

(Above) Now that the Catalina is flipped, Ann Hallam turns her attention to stripping and sanding the old finish from the hull sides and deck.

(Above) Bill Keenan's '84 Century now has a new swim platform, built by Alan Oppenheimer, David Kanally and Bill Mott. David took a quick trip down to Lake LBJ recently to help install the platform on Bill's boat.

(Above) Carl Lapiska is doing final wet fine sanding to the sides of this Super Sport in preparation for buffing. He's done plenty of research on the subject. Carl's looking for some help to flip the boat on March 4.
Next Monthly Meeting February 16th at Two Guys, Don't Miss It!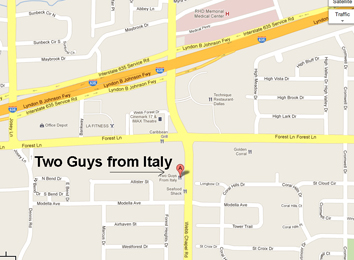 Our next meeting will be Thursday, February 16th, 2023, at 7 p.m. You'll receive an email reminder for the meeting a few days prior. We'll be continuing our door prize tradition, giving out an e-book of the lucky winner's choice, or a complimentary design of a boat show placard. The meeting will include a presentation of general interest to the antique and classic boating community, as well as the regular business of the club.
If you can't join in person, you'll be using the Zoom application for your cell phone or your home computer. To make things easier at meeting time, it would be a good idea for you to go to your normal smart phone app store to download Zoom Cloud Meetings, or go to Zoom.us on your home computer and sign up. Prior to the meeting, you will be sent an email with a link to join the meeting, and further instructions. Those who wait to download Zoom will also receive a link to do that just before the meeting starts. If you are among those who need a few attempts to be successful with technology, you may want to get the downloading taken care of ahead of time.
Our meetings are a great opportunity to socialize with fellow WBA members and to talk shop on questions on everything from paint and varnish to carburetor kits. Please join us on Zoom to be a part of our monthly fellowship!
Shop Talk and Musings: Cherishing our most experienced members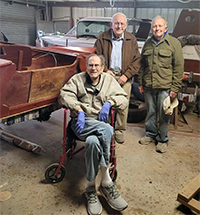 One of the benefits of belonging to the WBA is the wealth of expertise that you can access from our members who are well-versed in the restoration, preservation and operation of antique and classic boats. While we don't have room to document all that experience in Bilge Pump, we can give you three pretty good representatives of this group, pictured at left.
(l-r) Robin McGeorge has been a part of this club since the latter part of the last century and has been involved the the restoration of more than 20 boats in that time. He has developed a number of techniques for restoration that have become standard practice at the shop. Lew White spent most of his life in the construction of both wooden and fiberglass boats, beginning as an apprentice in Portland, England at Tod Boat Works in the 1940s, and winding up with a career as Quality Control manager at Chrysler Boats in Plano. Seb Borrello spends his winters in the Dallas area, volunteering at our shop and participating in all our major restorations. In the summer, he and wife Bonnie head north to their second home near Clayton, NY, where Seb volunteers at the Antique Boat Museum, learning the newest processes for boat preservation and restoration. Others in our club bring lots of expertise, too, including engine work, electrical work, woodworking and more. What a club!
And finally, please take a look in the shed or garage for leftover parts or other salable items you would like to donate to the Club. Contact David Kanally at david@historywithheart.com for more info.