Yellow Jacket Getting to Bare Wood, Ables' Boat Gets Bottom Work
(Above) Seb Borrello sands the foredeck of the '57 Yellow Jacket Riviera following a good scraping done by David Kanally.

(Below) The Yellow Jacket had at least ten coats of crazed varnish protecting the wood underneath. Chemical stripper removed only a coat or two at a time, so the heat gun proved to be a much more efficient stripping method.

(Above) Jim Donovan, Robin McGeorge, Ray Widmer and John Ables collaborate on applying a coat of epoxy to the bottom of John's Chris Craft.

(Below) Mark Wilson (l) shares a laugh with ACBS Executive Director, Dan Gyoerkoe, who was in town to speak at the Annual WBA banquet on January 18. Dan stayed with the shop crew through lunch on that day.
Next WBA Monthly Meeting February 20, 2020. Mark Your Calendar!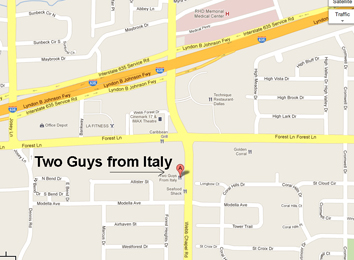 Our next meeting will be Thursday, February 20 at 7 p.m. at Two Guys from Italy at 11637 Webb Chapel Road, just south of Forest Lane. We'll be continuing our door prize tradition, giving out a classic boating book from collections donated by Pat Baldwin and Lou Zettler to a lucky winner.
The February gathering is our annual event planning session, so your presence and input are especailly important at this meeting. Our meetings are a great opportunity to socialize with fellow WBA members and to talk shop on questions on everything from paint and varnish to carburetor kits. We'll be swapping stories of our various boating and project adventures. Plus, we'll lay out our Calendar of Events for the 2020 boating season. And, of course, we'll have generous helpings of fellowship and Italian food.
Join us for a light meal and moderate libation at 5:30 p.m. at Two Guys from Italy prior to the meeting. We encourage you to join us for dinner, so we'll always have the required minimum number of diners to avoid a room charge.
Shop Talk and Musings:
The February meeting is your yearly chance to voice your desires and opinions regarding events and activities for the coming year. Our recent growth in rendezvous-style gatherings is a good example of the benefit of these planning meetings, where members have a chance to mold the club to better serve their needs. Please make an extra effort to attend, and bring your best ideas! The meeting will be held on February 20. See details in the article above for times and directions.
And finally, please take a look in the shed or garage for leftover parts or other salable items you can donate to the Club. Bring them to any WBA meeting, or contact David Kanally at david@historywithheart.com for pickup.