Projects in Lucas and Home Shops Looking Good!
(Above) Robin McGeorge and Troy Marshall's have put several coats of varnish and new upholstery in their 1956 Yellow Jacket Catalina.

(Below) Lew White and Bob Adair have applied thickened epoxy to the edge of the bottom of their 12' sailing dinghy. They're beginning to fasten one plank end with screws, and will work their way to the other end. They've chosen slow-cure epoxy to provide time to get the joint just right.

(Below) Dennis Cheatham reports via Facebook that he's made progress on his 1958 Yellow Jacket, having made templates for the deck darts.

(Above) Yellow Jacket side graphics and trailer decals complete the look of the rig. Originally yellow in color, the trailer looks much better with the boat in its new colors of black and red.

(Below) Lew (l) applies plenty of pressure while Bob fastens the garboard plank into the transom of the little dinghy. Once the epoxy is cured, most of the screws can be removed, or replaced with countersunk brass screws.

(Below) In addition, Dennis has built a cradle dolly that will allow him to maneuver the boat easily for repairs. He's also begun stripping the old finish from the boat.
Next WBA Monthly Meeting February 18, 2016. Don't Miss It!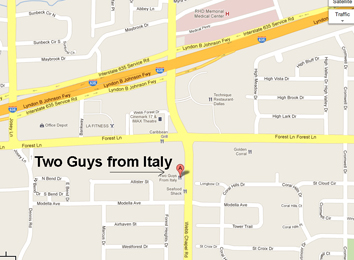 Our next meeting will be Thursday, February 18, 2016 at 7 p.m. at Two Guys from Italy at 11637 Webb Chapel Road, just south of Forest Road. WBA member and benefactor John Parish will be giving away one of his many boating and woodworking related books as a door prize.
Our meetings are a great opportunity to socialize with fellow WBA members and to talk shop on questions on everything from paint and varnish to carburetor kits. The February meeting is our annual planning meeting, so bring your best ideas for activities and projects for the club! We'll also be making a decision about our liability insurance, so your views and vote have never been more important.
As always, we'll have generous helpings of fellowship and Italian food.
Join us for a light meal and moderate libation at 5:30 p.m. at Two Guys from Italy prior to the meeting. We encourage you to join us for dinner, so we'll always have the required minimum number of diners to avoid a room charge.
Shop Talk and Musings
Of course, our annual banquet not only gives us a chance to welcome our new officers, it's also a chance to say thanks to our officers who have completed their service. At left, Rhonda Wolfe accepts a pewter boat serving bowl as a memento of her service as First Lady, and at right, Jim Wolfe sports his new WBA-crested blazer as a thank you from the club for his years as our President. Center, the Wolfes recognize outgoing Treasurer John Parish for his five years of service to the club. Thanks to you all!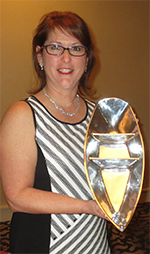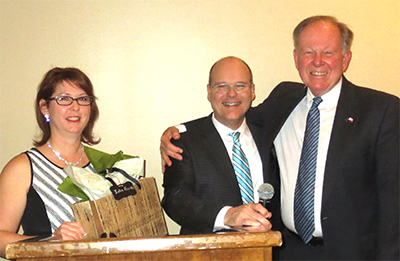 And finally, please take a look in the shed or garage for leftover parts or other salable items you can donate to the club. Bring them to any WBA meeting, or contact David Kanally at david@historywithheart.com for pickup.