Next Regular Meeting February 20, 2014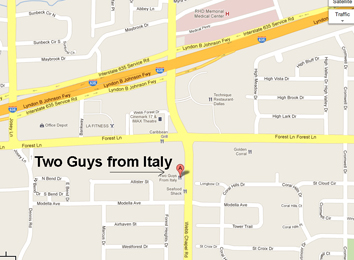 Don't miss our next regular monthly meeting on Thursday, Feb. 20, 2014 at 7 p.m. at Two Guys from Italy at 11637 Webb Chapel Road, just south of Forest Road. WBA Treasurer and benefactor John Parish will be giving away one of his many boating and woodworking related books as a door prize.
The February meeting is our annual planning meeting, so bring all your best ideas as we put together our plans for 2014.
Join us for a light meal and moderate libation at 5:30 p.m. at Two Guys from Italy prior to the meeting. We encourage you to join us for dinner, so we'll always have the required minimum number of diners to avoid a room charge.
Shop Talk and Musings
The coming year will be filled with activities related to antique and classic boating. Some of these, like Keels & Wheels are already on the calendar. Others will be considered and decided at our February 20th meeting. We've shown again and again in the WBA that our strength lies in our high level of participation and hands-on work. We invite everyone to make the WBA an important part of your life this coming year. You'll be rewarded with learning, fellowship, and a lot of fun working on and riding in beautiful antique and classic boats!
And, finally: Please take a look in the shed or garage for the leftover parts or other saleable items you can donate to the club. Bring them to any WBA meeting, or contact David Kanally at david@historywithheart.com for pickup.