February Meeting Devoted to Planning. Don't miss it!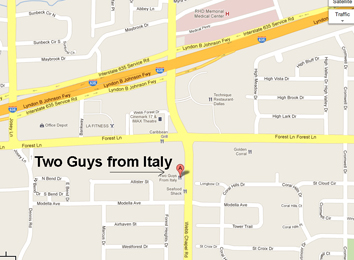 It's time to lay out our WBA calendar for 2013. As is our custom, the February meeting will be devoted to this important task. Join us on Thursday, February 21st at 7 p.m. at Two Guys from Italy at 11637 Webb Chapel Road, just south of Forest Road. WBA Treasurer and benefactor John Parish will be giving away one of his many boating and woodworking related books as a door prize. The February meeting will feature "Your First Workshop" by Aime Ontario Fraser.
Join us for a light meal and moderate libation at 5:30 p.m. at Two Guys from Italy prior to the meeting. We encourage you to join us for dinner, so we'll always have the required minimum number of diners to avoid a room charge.
Shop Talk and Musings: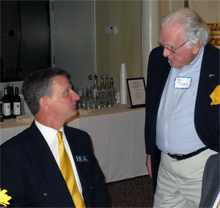 The WBA is made up of some pretty interesting characters. Seen in their yellow trim at the recent WBA banquet are Mark Webster (left) and Bill Baldwin (right). Mark is WBA past president and longtime past membership chairman. Mark and his wife Elizabeth support the Club's activities fully, participating in every event with enthusiam, often lending the club their stuff and hosting parties. The one and only Bill Baldwin, is a past president of the WBA, an author, and as he likes to introduce himself, "a simple computer programmer." In addition to these qualifications, his resume includes his current role as editor in chief of The Brass Bell, the official magazine of the Chris Craft Antique Boat Club. Bill and the new group of leaders at the Chris Craft club have brought The Brass Bell to a new level of quality, making it one of the best publications of the wooden boat hobby to be found anywhere. Articles range from the historic to the technical, often including contributions by WBA resident wizard Seb Borrello. Check it out here! Bill and wife Pat are also deeply involved in the Chautauqua Lake Twin Tiers Chapter of ACBS (New York), helping with their annual show and the creation of the Lawson Boating Heritage Center. We take this opportunity to thank Mark, Bill and YOU! for your ongoing participation and support of the Wooden Boat Association!
And, finally:
Please take a look in the shed or garage for the leftover parts or other saleable items you can donate to the club. Bring them to any WBA meeting, or contact David Kanally at david@historywithheart.com for pickup.