WBA Christmas Party the Affair of the Season!
| Members and friends of the WBA had a perfect early start to the holiday season at the annual Christmas Party, held on Saturday, December 6 at Jim and Rhonda Wolfe's home in Carrollton. Members from as far away as Houston made the trip for this wonderful event. | | WBA First Lady Rhonda surprised President Jim with an early birthday present...a beautiful original watercolor (above) by WBA artist-in-residence Lisa Daniels. The group enjoyed a wonderful buffet. Thanks to Jim and Rhonda and their family for a memorable evening. See the slideshow. |
| --- | --- | --- |
Old Boats Find New Life in Lucas!
(Above) Robin McGeorge and Troy Marshall's '36 Chris Craft Custom Runabout is now complete and on the market. Since last issue, the upholstery has been installed, and all the hardware and final touches have been done.

Signs of sanding and sealing abound on the hull and bottom of Walter Hill's cruiser. The windshield frame is still under

(Above) The steering wheel of Robin and Troy's '36 Chris has a rosewood grip hand crafted by Robin on the vintage banjo wheel. This pre-war example of the Chris runabout will make a great boat for the right buyer. Video here!

restoration. You should come out to the shop some Saturday morning and check out Walter's careening rig!
No Regular Monthly Meeting in January, Next Meeting Feb. 19, 2015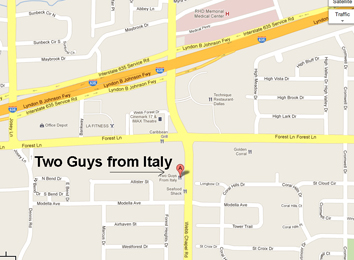 Because of the Banquet in January, our next monthly meeting will be Thursday, Feb. 19th, 2015 at 7 p.m. at Two Guys from Italy at 11637 Webb Chapel Road, just south of Forest Road. WBA Treasurer and benefactor John Parish will be giving away one of his many boating and woodworking related books as a door prize.
This will be our annual planning meeting, so it's important for you to attend. And, as always, we'll have generous helpings of fellowship and Italian food.
Join us for a light meal and moderate libation at 5:30 p.m. at Two Guys from Italy prior to the meeting. We encourage you to join us for dinner, so we'll always have the required minimum number of diners to avoid a room charge.
Shop Talk and Musings
Pretty Penn Yan Cedar Strip 14-Footer Just One of Many Classics for Sale!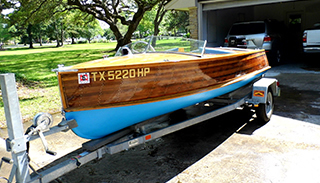 New WBA member Eric Pearson of Friendswood, TX has this nicely restored 14' Thompson cedar strip outboard with a 1996 Johnson 30hp outboard for sale in the WBA Classifieds. Check out this boat and any others you may find interesting. There are choices there for any taste and budget.
If you happen to have a boat listed in those classifieds that is no longer for sale, please drop an email to David Kanally so the listing can be removed. If you know someone looking to get into the antique and classic boat hobby, let them know about the WBA Classifieds!
This just in...Dennis Cheatham has pulled off the negotiation of the year to acquire his new 1958 Yellow Jacket Riviera. Only thing is, it wasn't Dennis who did the toughest part of the negotiation, it was WBA Secretary GAY PERRY! Gay says it was her alter ego that emerged to go toe-to-toe with the seller and point out some issues with the boat and the paperwork that pushed the price down to a very comfortable amount. Congratulations on a great deal! So, fellow skippers, if you have a tough buying negotiation to pull off, maybe you should think about taking Gay along with you...
Our Vice-President, Steve Griffitts, reports that he successfully underwent inverted gastric sleeve surgery on December 17th and is now at home recovering, and feeling fantastic. All the best, Steve!
And finally, please take a look in the shed or garage for leftover parts or other salable items you can donate to the club. Bring them to any WBA meeting, or contact David Kanally at david@historywithheart.com for pickup.