Next Regular Meeting February 20, 2014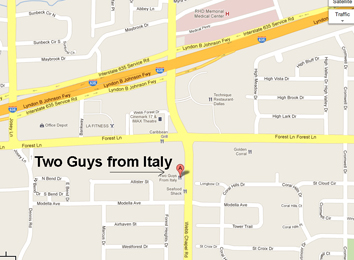 Because of the Christmas Party in December and the Banquet in January, our next regular monthly meeting won't be until February. Join us on Thursday, Feb. 20, 2014 at 7 p.m. at Two Guys from Italy at 11637 Webb Chapel Road, just south of Forest Road. WBA Treasurer and benefactor John Parish will be giving away one of his many boating and woodworking related books as a door prize. The February meeting is our annual planning meeting, so bring all your best ideas as we put together our plans for 2014.
Join us for a light meal and moderate libation at 5:30 p.m. at Two Guys from Italy prior to the meeting. We encourage you to join us for dinner, so we'll always have the required minimum number of diners to avoid a room charge.
Shop Talk and Musings
Just a quick note to tell you how much fun it's been the last two years serving as WBA president. The WBA is a unique organization in the antique and classic boat hobby, and it's an honor to help lead the organization. I know that our experienced incoming president, Jim Wolfe, will do a great job. He deserves your support and enthusiasm. I'll continue as the Bilge Pump editor and WBA webmaster, as has become our custom. Jim and Rhonda have lots of great ideas, and I look forward to their leadership over the next two years. Special thanks go also to Troy Marshall who has done a very capable job as vice-president the last two years, organizing our month meeting programs and filling in when needed. Thanks, Troy! Our new VP, Steve Griffitts, has a great example to follow!
David
And, finally: Please take a look in the shed or garage for the leftover parts or other saleable items you can donate to the club. Bring them to any WBA meeting, or contact David Kanally at david@historywithheart.com for pickup.